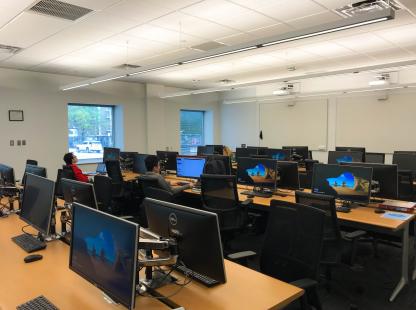 Watson Analytics
Quick Start Guide to Watson Analytics
Introduction to Watson Analytics and Creating an Account
Hard Copy of Quick Start Guide to Watson Analytics
What is Watson Analytics?
Watson Analytics is software developed by IBM that supports the company mission of "engaging the power of cognitive computing." This data analysis and visualization service, accessed through IBM's cloud computing infrastructure, allows individuals to readily access and explore data as well as improve the efficiency and effectiveness of one's workflow.
What Can I Do With Watson Analytics?
Watson Analytics allows for users to explore and ask questions about their datasets and  communicate results effectively within a company or team through data visualizations.  The software enables one to interpret data, understand why patterns and trends occur, and develop key takeaways that explain the data and contribute to predictive analytics features. Watson Analytics allows for companies to interact with their data in an innovative way, increasing efficiency, precision, and effectiveness to drive success. Examples of applications can be found in the Watson Analytics may be found below in this tutorial.
How Can I Access Watson Analytics?
Through NJIT and the website https://njit.onthehub.com, anyone with an NJIT email can access a variety of IBM's products. By registering through the NJIT website and then accessing your IBM account on https://www.ibm.com/watson-analytics, you can access Watson Analytics on the device of your choice, wherever you are! We now discuss concrete steps on how to create an account and access Watson Analytics:
Creating an Account
Step 1. To access IBM Watson Analytics, go to njit.onthehub.com to get started!
Step 2. Click the "Start Shopping" button. After that, click the register button and register for an account using your NJIT email.
Step 3. After registering, go to your email and click the link provided within the email. Select "Start Shopping" again. Select "IBM" followed by "Watson" and then "IBM Watson Analytics – Student Edition."
Step 4. Select "Add to Cart" and proceed with the Check Out. Read through the Academic Initiative Program Agreement and accept the terms and conditions.
Step 5. Enter your NJIT email under "Organization-Issued Email Address," create an account.  
Step 6. On the page entitled "Product", fill out the desired information. Fill out the first two questions with your personal information.
          For "What is the name of your course(s)/research effort?" input NJIT MTSM.
          For "Which topic most closely relates to your course content/research effort?" select          Cloud.
Step 7. The website will now ask you to review your order. Select the "Proceed With Order" option that appears on the screen.
Step 8. From here, select the "More Action Needed" link and proceed to select "Register" when the next tab pops up.
Step 9. Register for the Watson Analytics Student Program and select "Continue." Verify your email address to create your IBMid by using the verification code provided within the New User Registration Email sent to you by IBM. Input your confirmation code and select "Register."
Step 10. Select the "Sign Up" option in the top right corner and you will be redirected to the IBM Watson Analytics Homepage (as shown in the picture). When the "Almost there…" pop up window appears, select "Continue" and follow the instructions to follow. 
Step 11. Once you have selected the 4 options asked, you have made it to you IBM Watson Analytics Dashboard!