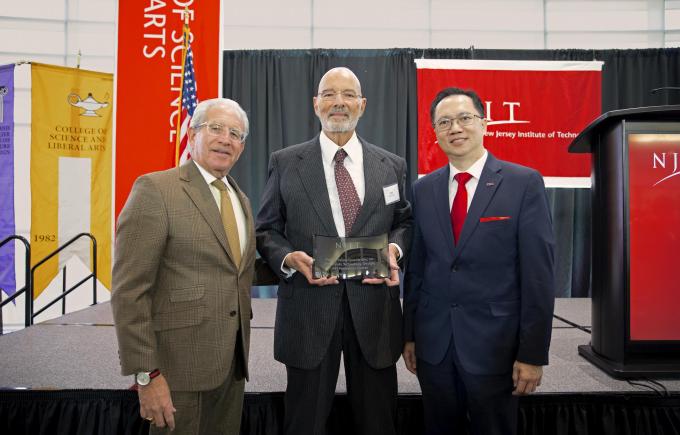 Paul Profeta celebrated his parents at the dedication of a new real estate research center that he has endowed at New Jersey Institute of Technology. [read more]
About the Center
The Paul Profeta Real Estate Technology, Design and Innovation Center serves as the locus of research, teaching and training related to disruptive technologies innovations and novel design, service, management techniques that are actively transforming the real estate field. Housed in NJIT's Martin Tuchman School of Management, and drawing on the expertise, experience and interests of faculty members from Tuchman School of Management as well as the Hillier College of Architecture and Design, Ying Wu College of Computing and the Newark College of Engineering, the center offers new academic programs in Real Estate Technology, provides executive education, organizes conferences, symposia, and workshops related to cutting edge research in the changing ways in which real estate is traded, used and managed. The center's transdisciplinary research activities focus on the use of technology and innovation, new ways of design and innovative business models with a special focus on the application of information technology and platform economics to real estate markets, also known as property technology, or PropTech.
About Paul Profeta
| | |
| --- | --- |
| | Mr. Paul Profeta, a successful businessman, educator, and philanthropist, is a member of the Board of Overseers at NJIT. Mr. Profeta founded Paul V. Profeta Associates, Inc., in 1976, a real estate investment company that is actively engaged in procuring value-added investment properties throughout the country. Paul V. Profeta's various entities have owned or still own millions of square feet of office space, industrial space, retail space, and thousands of apartment units. Mr. Paul Profeta is the founding donor of the Paul Profeta Real Estate Technology, Design and Innovation Center. |
RETDIC Director
Dr. Oya Tukel, Dean of Martin Tuchman School of Management resumes the acting Director position for the next three years.
RETDIC's Vision
To become a leading research and education center in technology, design, and innovation in real estate, contributing to the vitality of our region and beyond. We will accomplish this by offering innovative academic programs and by fostering leadership in real estate research and technology development, by integrating green and environmentally friendly resilient design, as well as adapting transdisciplinary approaches in data analytics, virtual and augmented reality-based modeling and simulation, the digital transformation of financial services in real estate, and business development towards future smart communities for societal and equitable impact.