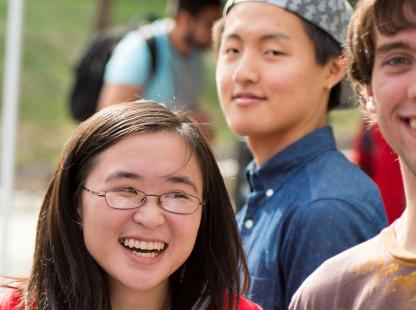 Student Clubs and Organizations
Business Clubs and Organizations
The purpose of the Business Masterminds Club is to benefit and support the NJIT community by introducing, exposing, and educating them on practical skills applied to and in the different aspects of  business across various sectors and disciplines (i.e. finance, marketing, accounting, entrepreneurship, management, and more). 
Meetings will include general discussion meetings, workshops and professional panel speaking/networking events with guest speakers.   
Business Masterminds Club Officers
Co-Presidents: 
Aliyah Mohammed 
Isabella Heyaime 
Vice President:
Avneet Kaur 

Marketing Director:
Christina DeRosa 

External Relations Officer:
Denis Ahmemulic

Public Relations Officer:
Haley Patel 

Treasurer:
Jesudamilola Olaloku 
 
Secretary:
Pedro Simoes 
Event Coordinator:
Riya Desai 
If you are interested in joining the Business Masterminds Club, contact our President for more information at businessclubnjit@gmail.com
Follow our club Instagram page, @njit_masterminds for more details about events and other activities!
Student-led and run user group at NJIT's Martin Tuchman School of Management. Our mission is to support students as they learn the skills to get hired into the Salesforce ecosystem. We achieve this by providing Trailhead training tailored to a students career goals, mentorship, and networking opportunities with Salesforce professionals in the Salesforce Ecosystem. 
Salesforce Student Group Officers
President: Waleed Cheema
Vice President: Anousha Raina
Secretary & Treasurer: Nida Jamshed 
Faculty Advisor: Joseph Roman
The NJIT Investment Fund is a student-run association committed to educating its members on the principles of value investing and fundamental analysis. By managing a real stock portfolio, students will be able to develop critical skills that will prepare them for the financial sector workplace.
The investment fund members will perform an in depth analysis of a publicly traded company. Analysts will have access to Bloomberg terminals in order to support their research. Furthermore, students will pitch the company that they chose to the fund members. Once the fund members have presented their companies, the portfolio could be restructured, including some of the companies pitched. 
NJIT Investment Fund Officers
President: Isaac Vanzomeren
Vice President: Samuel Reisgys
Treasurer: Alessandro Negri
Follow our LinkedIn Page, NJIT Investment Fund, to learn more about our organization, how to join, events, and more.
For those students less familiar with investing, the fund offers a semester-long analyst training process where members are introduced to the financial markets and taught the principles of investing.
Any student is welcome to join the club regardless of their year, major or financial concepts knowledge. 
NJIT Investment Club Officers
President: Isaac Vanzomeren
Vice President: Samuel Reisgys
Treasurer: Alessandro Negri
The Entrepreneur's Society brings students together who want to focus on Innovation and the Commercialization of Technology. Each year the club has a focus project and in past years we have all learned how to do app development, conduct lean startup practices, and enhance commercialization of military technology in partnership with Lakehurst Naval Air Station. The club attracts students from throughout NJIT to create business-like teams with technical and business students working together. Both undergraduate and graduate students are welcome to join.
Entrepreneur's Society Officers
President: Aliza Mujahid
Vice President: Matthew Torres
Treasurer: Caroline Caputo
Secretary: Sonia Uddin 
Event Coordinator: Danna Sanchez
Public Relations/ Media Coordinator: Luis Velasquez

Faculty Advisor: Dr. Michael Ehrlich
Contact the president, Aliza Mujahid, for more information at iac@njit.edu!
FinTech Club
The NJIT Financial Technology Club (NJITFT) is the first holistic, undergraduate-led club to provide places and resources for MTSM students enrolled in the Financial Technology Major. By imparting the necessary fintech knowledge and background, working with more businesses to expand networking possibilities, the NJITFT club hopes to inspire the next generation of fintech business leaders who wish to work in the fintech industry. 
Muhammad Waleed Cheema President
Anousha Raina Vice President
Sarah Lutz Secretary
Zeynep Kus Treasurer
Isabella Heyaime Social Media Director 
Parina Jhaveri  Outreach and Expansion Director
Nahomy Zuniga Senate Liaison
Faculty Advisor Dr. Ajim Uddin
Alpha Kappa Psi was founded on the principles of educating its members and the public to appreciate and demand higher ideals in business and to further the individual welfare of members during college and beyond. It is a unique, prestigious association of students, professors, graduates and professionals with common interests and goals. Alpha Kappa Psi provides valuable educational, friendship and networking opportunities.

Alpha Kappa Psi Officers
President: Sarah Lutz
Vice President of Administration: Arushi Mandal 
Vice President of Finance: Ayaan Khan 
Vice President of Membership: Ridaa Alam 
Vice President of Alumni Relationships: Parina Jhaveri 
Historian: Nadia Manoppo
Secretary: Aaron Alemi 
Warden: Sophia Starzynski 
Follow us on Instagram, @njit_akpsi for more information and event details! If you have any questions or concerns, feel free to email the president at njit.akpsi@gmail.com!
Beta Gamma Sigma is the international Honor Society for AACSB accredited schools. For membership requirements and meeting information, contact Dr. Xinyuan Tao @ xinyuan.tao@njit.edu. You can also visit the Beta Gamma Sigma website to learn more about the benefits of membership.