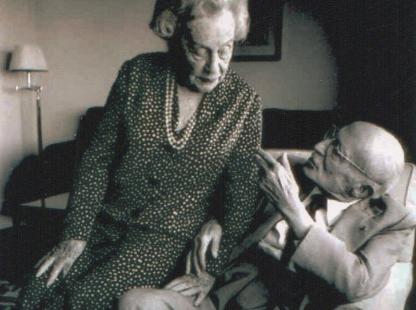 Henry A. and Erna D. Leir  
Meet the​ Leirs
Born on 28 January 1900, as Heinrich Hans Leipziger, in Beuthen, Germany, Mr. Leir was the oldest of 6 children, and at the age of 11, upon his Father's death, he soon learned how important it was to put good ideas into practice and to do so, using his terms, with Prussian precision. In spite of the difficult times and his own family situation, he continued to study and had a special affinity for languages, geography, and chemistry. At 19, Mr. Leir began an apprenticeship with Wolf Netter, the largest German mining and metals trading company of the time.
Ten years later, in 1929, Mr. Leir married Erna Dora Schloss of Mannheim, Germany.  Over the years, Mrs. Leir was his constant companion and advisor and has been described as a very modest individual, who possessed profound common sense, great spontaneity, and boundless energy.  The Leirs shared four residences on two continents, and both remained dynamic, productive individuals throughout their lives. Indeed, for their efforts, both Henry J. and Erna D. Leir were named Knights of the French Legion of Honor.
Remaining active all their lives, Mrs. Leir died in Connecticut in January 1996, and Mr. Leir died in Manhattan in July 1998. From that time on, the Leirs devoted their time and efforts to philanthropy, in order to enhance world prosperity and individual accomplishment. Over their lifetime, the Leir's immense successes were honored internationally. Thus, in addition to the French Legion of Honor's knighthoods bestowed upon both Leirs, in Lausanne, Switzerland, Mr. Leir joined the Board of the Foundation Jean Monnet for Europe. In the United States, universities honored him with the title of Doctor honoris causa. In Luxembourg, he was named: Special Adviser to the Ministry of Economy of the Grand Duchy, Consul of Luxembourg to the State of Connecticut, and Honorary Consul-General for the Swiss Cantons of Vaud and Valais. Mr. Leir was also made Officer, Commander, and Grand Officer of the Oak Crown, Grand Cross of the Order of Merit, and Grand Officer of the Civil and Military Order of Adolphe of Nassau.
Over time, the Leirs established a number of organizations eventually becoming known as The Leir Charitable Foundations, committed to the global humanitarian ideals and interests of Henry J. and Erna D. Leir. Thus, its work supports the advance of high quality educational and cultural institutions, medical research and care, services for children and the disadvantaged, and programs that enhance multi-cultural understanding and diversity.
In the last years of his life, Henry and Erna Leir planned charitable uses of their 37-acre property in Ridgefield, Connecticut.  At age 97, he planned and oversaw the construction of Leir House, focusing on programs for disadvantaged children of all races and religions, and on scientific and educational conferences.  The first session at Leir House commenced two weeks after his death, and the series and other activities still continue to flourish to this day, as he has hoped.
Henry J and Erna D Leir Endowment for Graduate Student Research Fellowships
The Leir Graduate Student Research Fellowships will enhance the opportunity to support and recruit outstanding new students into the Ph.D. program in MTSM.