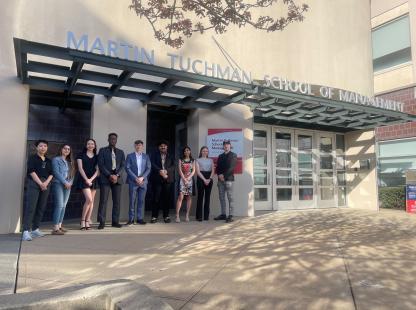 Dean's Executive Student Leadership Council
Meet the members of our Dean's Executive Student Leadership Council
Current Students
Contact: mc875@njit.edu

Major: Financial Technology

Waleed Cheema is a Senior at Martin Tuchman School of Management majoring in Business with Financial Technology. Waleed has previously held the position of the Vice-President of the council. Waleed has held numerous on campus-jobs and leadership roles while working with the office of Residence Life, Greek Village, Strategic Events and Communications Department, and Office of the Dean. Waleed has also been involved with the Pakistani Student Association, the Salesforce club, Business Masterminds, and Alpha Kappa Psi. Waleed recently went on an all-paid four-day retreat attending AKPsi Academy held in Indiana representing the Tri-State area chapters. Since Summer Waleed has been working in the General Accounting department at NJIT as an Accounting Intern and upon graduation would be working in the field of Finance. Please reach out to me with any questions or concerns that anyone might have regarding their major, field of focus, or career advice!

Major: Business

Concentration: Finance

Minor: Data Analytics

Isabella Heyaime is a third-year business student with a concentration in Finance and a minor in Data Analytics at Martin Tuchman School of Management. Isabella is also a part of the MTSM dual degree program, where she hopes to obtain her MBA in Finance. She is Co-President of Business Masterminds as well as a student mentor, where she focuses on leading students to achieve success. Last summer, Isabella interned with Project Destined, where she participated in the evaluation of the development of an asset in Manhattan, NY. She helped build 10-year cash flow projections and sensitivity analysis based on various growth rates, hold periods, and exit cap rates. Currently, Isabella is an office worker for Martin School of Management and is looking for an internship for Summer 2023.

Major: Business

Concentration: Innovation & Entrepreneurship

Max Gregorio is a junior business student at the Martin Tuchman School of Management with a concentration in Innovation and Entrepreneurship. He is a member of the Alpha Kappa Psi Fraternity and is involved in many clubs and organizations on campus. He currently works as an Intern Registration Coordinator for Tufts Medicine.

Major: Financial Technology

Jaden Choi is a junior Financial Technology major at Martin Tuchman School of Management. Jaden Choi is recognized for his academic achievements by Dean Tukel, as well as for being an "up and coming trailblazer of the FinTech industry". Jaden is currently a student engagement ambassador of the alumni engagement center and has previously worked as a EOP RA for Summer 2021 and 2022, as well as being an office assistant for the Educational Opportunity Program Department. Jaden has also been involved with NJIT Student Activities Council, NJIT Spectrum, NJIT Knit and Crochet, as well as NJIT Book Club.

Major: Business

Concentration: Innovation & Entrepreneurship

 

Aaron joined the Albert Dorman Honors College in 2018 after being injured as a United States Military Cadet at West Point. During his time on campus Aaron has been the Freshman Liaison for the Association of Indian Students, Alpha Kappa Psi Process Manager and President of the Veteran Student Organization as well as the Hillel Hebrew Club. He's worked several internships and co-ops for companies like DHL, The Port Authority of New York & New Jersey, Verisk Analytics and Lumen Technologies. Please reach out to him for career advice as he loves helping underclassmen land their first business related work experience.

 

Major: Business

Concentration: Finance

Nikola Klimczak is a second-year honors student at Martin Tuchman School of Management majoring in Finance. They currently work as a student assistant at the Leir Research Institute, where they curate quarterly newsletters and manage various LRI-related websites. Nikola is also the secretary of Alpha Phi Omega, a co-ed service fraternity. As a student research assistant, Nikola studied the health impacts of climate change on communities such as Camden and Newark, fueling their interest in climate change. They have an honors concentration in Civic Leadership and City Engagement and hope to use their finance degree within the non-profit or environmental sustainability sectors.

Major: Business

Concentration: Management Information Systems

Perla Malki is a senior Business student with a concentration in Management Information Systems at the Martin Tuchman School of Management. Perla is a member of the Dean's Executive Student Leadership Council and is a Learning Communities Peer Mentor who prioritizes her mentees so they can excel as students. She is a Santander Scholar, Spencer's Savings Bank Scholar, and has assisted in student research in the School of Management. She also participated in a co-op as a CRM business analyst at Avanade during the Summer 2022 semester.

 

Major: BS/MBA

Concentration: Management, Marketing 

Travis is a BS/MS student in his junior year studying Management and Marketing. He is an 11c Infantryman in the US Army NG and worked in the Ballroom industry for the past 4 years as a top executive. Travis is the President of the Veteran Students Organization and is also the Veterans Affairs work-study  at NJIT.

Major: BS/MBA

Concentration: Management, Marketing 

Sharnbir Kaur is a rising junior majoring in finance and is also an Albert Dorman Honors College student, demonstrating her commitment to academic excellence. In addition to her academic achievements, Sharnbir is actively involved in various extracurricular activities on campus. She serves as the president of Phi Eta Sigma, an academic honor society that recognizes high-achieving first year students. She is also a Peer Mentor for first year students, providing guidance and support to help new students navigate their transition to college life. Sharnbir has also been involved on campus as a member of Student Senate in Finance committee and served as a moderator of Investment Club.
Alumni
Sheena Marinas, Business (Accounting), '22
Marina Arrese, Business (Financial Technology), '21
James Coll, Business (Accounting and Finance), '21
Vincent Jackson, Business (Marketing), '21
Racheal Ogungbile, Business (Management Information Systems), '21
Murshidha JamalMohamed, Business (Accounting and Finance), '21
Shana Dominique, Business (Finance), '22
Charis Hwang, Business (FinTech and MIS), '22
Mydah Naseem, Business (FinTech), '22