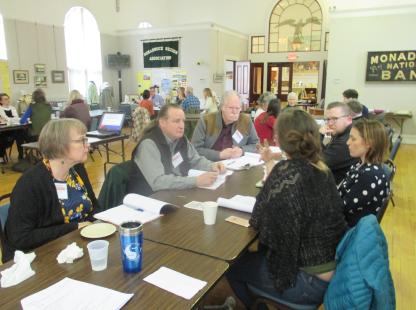 Workshops and Bootcamps
More than 40 artists, arts administrators, city planners, city councilors and other professionals meet for a Creative Placemaking and Brownfields Redevelopment Bootcamp, Keene, NH
At NJIT's Hub for Creative Placemaking, we have a solid base of existing sector-specific content that we provide in various formats: half-day, full-day, multiple days.  The purpose of these workshops and bootcamps is to advance the understanding and recognition of the value of the CP process for diverse audiences. 
Click below for a summary of some of our current workshops and bootcamps.
Who should attend: organizational leaders, advocates, municipal/county/state officials, community activists, sustainability champions, students, teachers, NFP leaders, environmental planners, natural resource planners, conservation program directors, natural resource managers, environmental impact assessment specialists, coastal resources specialists, military planners, green building specialists, GIS specialists
This full-day workshop focuses on utilizing the Creative Placemaking process for planning for land usage including who should be involved in the process, the importance of accessibility and resource-sharing, intentional cross-cultural considerations and branding and marketing attractions. Throughout this day-long workshop we examine the interconnectedness of the natural ecology and the cultural ecology. We focus on distributional equity in multiple forms and its implications for sustainability.
The Workshop format includes presentation, group discussion and practical application. Workbooks are utilized thereby allowing each participant the opportunity to examine ideas from their personal or organizational perspective during the workshop and for further reflection after.
What you will learn:
What Creative Placemaking is.
Forming the right team
How to plan equitably and efficiently by utilizing existing assets
Principles of Smart Growth and ways to apply
Economics of Conservation
Preservation
Data Sets and Tools that help tell the story
How arts and culture can support sustainability
Promotional tools and technologies for marketing of place
Impact measurement tools
Contact Us here to learn more!
Who should attend: improvement district directors, mayors, council members, commission and board members, municipal planners, engineering officials, housing professionals, safety officials, developers, economic developers, economic development specialists, artists, designers, NFP leaders, community developers, GIS specialists, cartographers, entrepreneurs, finance professionals, investors, marketers, researchers, transportation professionals, teachers
Creative placemaking seeks to help communities develop a stronger sense of identity, building on native cultural assets to create more cohesive, healthy, and resilient places. The deliberate integration of arts and culture into community development work brings arts organizations and artists to the table, helping to design land-use, transportation, economic development, education, housing, infrastructure, and public safety strategies. Through this "essentials" training session we will provide the basics of the Creative Placemaking process, technology and data platforms that support this process and the potential economic impact of applying this process for the community.
This 4-hour workshop focuses on practices and innovative policies that municipal leaders, decision-makers and developers can undertake to foster creative placemaking planning in communities.
What you will learn:
Understand the process of creative placemaking and the economic value of undertaking creative placemaking planning over traditional redevelopment processes
Innovative policies that are proving successful against a self-analysis of your municipality's policies
Understanding of how and why it is critical to engage with and include the larger community
Marketing tools and technology platforms for creatively branding the unique aspects of your municipality
Funding sources for creative placemaking planning
a better understanding of the economic value of undertaking this process for planning over traditional redevelopment processes
Contact Us here to learn more!
Who should attend: Artists, designers, culture workers, tourism officials, environmental activists,municipal/county/state officials, planners, municipal business managers, utilities officials, environmental planners, environmental impact assessment specialists, coastal resource specialists, data analysts
Creative placemaking is becoming a recognized methodology for design and systems planning to address climate change. In this 3-hour workshop, we will focus on cross-sector partnerships, regional collaboration, inclusion and engagement with intentional integration of the arts and culture as facilitator, connector and cultivator of creative approaches to complex problem-solving. In particular, "Public Art" and "Design" will be examined as a much-needed new approach to information sharing and community participation which is locally informed and human centric. Newer mapping tools and data analysis will be examined as innovative technologies to inform and engage the public, raising awareness and promoting engagement in creative problem-solving.
What you will learn:
Better understand the meaning and overall process of the creative placemaking approach to addressing climate changes
Case examples for analysis of successful local and regional collaborations in sustainable design and arts interventions which make abstract, complex processes more accessible, engaging, and concrete for the public.
How arts and culture can accelerate environmental progress
Metrics and measures to evaluate impact
Click here to learn more!
Who should attend: Real Estate Professionals, Community Leaders, Artists, Arts Managers, Developers, Municipal Officials, Public Safety Officials, NFP Leaders, Organization Leaders, Designers, Architects, Community and Economic Development Directors/Specialists, Facility Managers, Health-Care Practitioners, Housing Directors, Teachers, Game Designers, Transportation Planners, Marketing Professionals
Cities and neighborhoods need creative thinking, particularly when communities are facing big challenges and social imbalance . Efficient and sustainable solutions require cooperative engagement of cross-sector leaders and creative thinkers recognizing and building upon existing assets. This approach to community, social and economic development is known as creative placemaking.
Professionals who wish to engage in this kind of process will learn ways to participate in cross-sector creative dialogue and to recognize the value of their particular skill sets. They will be exposed to tools that can foster creative engagement in this manner. In this day-long workshop, we will investigate some historic exclusion policies and practices and examine innovative means to address them based on community identity, needs and vision.
What you will learn:
What is creative placemaking and how can it help create opportunities for people of all income levels and backgrounds to come together and to thrive
Elements of historical context that are at the heart of social justice
How to encourage people to think about our communities in different ways and creative tools, games and technologies to enhance engagement
Examination of my personal skills set which can help advance our overall efforts
Connections found at the intersection of arts and technology
What to look for as evidence of change and how to collect that evidence for measuring social impact
Who Should Attend: Improvement District Managers, Municipal Officials, Municipal Planners, Small Business Professionals, Owners, Funders, Developers
Creative placemaking seeks to help communities develop a stronger sense of identity, building on native cultural assets to create more cohesive, healthy, and resilient places. The deliberate integration of arts and culture into community development work brings arts organizations and artists to the table, helping to design land-use, transportation, economic development, education, housing, infrastructure, and public safety strategies.
"The science of how to do the technical parts of community development is well understood – how to build water infrastructure, housing units, transportation systems - but we as community development officials have forgotten about the 'people' part of the equation. Through this one-day bootcamp, we will examine how we can build places where people actually want to live their lives and how we can build strong social ties. We will examine why the secret lies partly in the arts. Artists are the great connectors and artists and designers early on in the community planning process strengthens outreach and awareness of resilience issues, problem identification and creative solution strategies.
What you Will Learn:
Evaluation of how arts and artist impact in solving issues confronting downtowns
Identifying and prioritizing the needs of the town center that may become a road map for placemaking
Building partnerships to help with crosswalks, waste receptacles, signage, location maps- points of interest, murals and an appearance of freshness and cleanliness by analyzing safe streets policies, mapping and design tools, demographic trends and statistics.
Examining financing tools for supporting and developing planning to assist developers to rehabilitate neglected buildings, shuttered properties, and other unused buildings transforming them into galleries, restaurants, artists' studios and more
Why is the "More is more" attitude the correct one for downtowns?
Collaborating with the collective arts organizations in town to cross-promote and generate more business? What's the connective tissue?
...and more
Click here to learn more!
Who should attend: Residential realtors, Commercial Realtors, brokers, real estate developers, property managers, real estate attorneys and appraisers
The NJIT Hub for Creative Placemaking is pleased to offer a professional training workshop designed for real estate professionals to help them become local leaders for Creative Placemaking Planning. Realtors are critical to local development efforts and have access to technologies and analytical tools to influence significant investment and planning actions in their communities. Realtors are uniquely positioned as the local market experts, and real estate developers, property managers, appraisers and attorneys are integral to municipalities' creative placemaking planning and execution.
This 2-day training workshop is targeted to professionals who are interested in or are already peripherally engaged in placemaking work.
What you will learn:
Examining data tools and technologies which support decision-making in order to increase the value of the properties in the community
Analyzing trends analysis to help improve the desired quality of life in the community
Becoming an integral part of an existing creative placemaking team capable of fostering productive cross-sector dialogue
Being seen as both a technological expert for and engaged practitioner in equitable placemaking
Using your skill sets and resources to analyze neighborhood, municipality, regional and national data to inform creative placemaking community planning
Serving an inclusive consumer base which is desirous of living and working in places of quality.
Applying your expertise in marketing in order to exert significant influence in the marketplace.
Recognizing important financial, legal, construction, design, and trade relationships, all of which can contribute to a municipality's success with and sustainability for creative placemaking projects.
Click here to learn more!
Unlock the Power of the Arts, Culture, and Creativity:
Placemaking and Brownfields Redevelopment Bootcamp
Learn how your brownfield sites can be transformed into community assets through Creative Placemaking in this full-day workshop.
What you will learn:
What Creative Placemaking is.
What Brownfields are.
Why Creative Placemaking is an effective approach toward sustainable development and increasing community vibrancy, social equity, and economic growth.
How to identify existing assets and creative ways to re-imagine land-use.
How to foster cross-sector dialogue and inclusion.
How to apply your expertise to future community development.
How to assemble the players for and become an integral part of a Creative Placemaking planning team.
How to overcome development, approval, and funding challenges specific to rural municipalities.
How to begin to explore ways to brand and market the unique identity of their community
Contact Us here to learn more!
Other Workshops Bootcamps: 
Creative Placemaking Planning
Creative Placemaking for Professional Artists
Place-based Storytelling for Social Change
Creative Placemaking for Transit-Oriented Development 
We are constantly expanding upon these training opportunities with updated information and insights. We have the resources within NJIT to adapt to your specific sector and audience.   At present, we are particularly intent on creating workshops, bootcamps, and forums for seniors, veterans, underserved communities, leaders and organizations, and those living and working in suburbs and rural areas. 
 
Contact Us here to learn more.