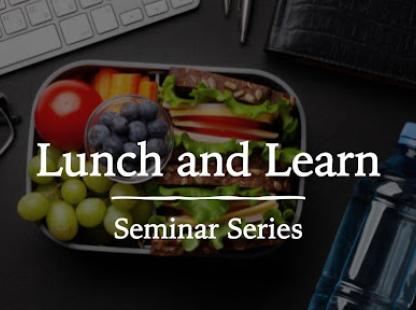 Lunch and Learn Series
Join us at our monthly Lunch and Learn Series!
The Profeta Real Estate Technology, Design and Innovation Center (RETDIC) is pleased to announce its monthly Lunch and Learn Series.  Each month the RETDIC will present a distinguished speaker lecturing on subjects based on disruptive innovation and new ways of design and construction which are changing the way real estate is built, traded, used and managed.
Date/Registration
Speaker
Topic

04/21/23

12:00-1:30
PM (Lunch will be
Served)

Jim Shi, PhD, MBA

Leir Chair and Professor of Supply Chain Management & FinTech at Tuchman School of Management

Haim Grebel

Electrical and Computer Engineering Department and Center for Energy Efficiency, Resilience and Innovation (CEERI) Electronic Imaging Center (EIC at NJIT)

Risk Mitigation of Distributed Energy Resources when Managing Commercial Properties

02/24/23

12:00-1:30 PM (Lunch will be served)

Rayan H. Assaad

Assistant Professor at the Department of Civil and Environmental Engineering and the Director of the Smart Construction and Intelligent Infrastructure Systems (SCIIS) lab at NJIT

Dr. Aichih (Jasmine) Chang

Assistant Professor of Business Data Science at Martin Tuchman School of Management at NJIT

An Intelligent and Dynamic-Pricing IoT Device to Improve the Reliability of a Shared Economy System

01/27/23

12:00-1:30 PM (Lunch will be served)

Dr. Joseph A. Micale
NJIT Assistant Professor of Accounting

Dr. Jinghua (Carolyn) Wang
NJIT Assistant Professor of Finance

What happens when disruptive assets meet conventional assets?--An analysis of cryptocurrencies and REITs.

11/18/22

12:00 - 1:30 PM
(Lunch will be served)

Register here! 
Please register by 11/16/22

Martha Baez

SVP of Land Band Operations for Invest Newark

Through Martha's lecture Newark Land Bank, we will learn what a land bank is and what it does. We will better understand the establishment of land banks across the country and specifics about the activities of Newark's Land Bank.

 

10/28/22

12:00 - 1:30 PM
(Lunch will be served)

Register here! 
Please register by 10/23/22

Chair of the William Newman Department of Real Estate and Director of the Steven L. Newman Real Estate Institute in the Zicklin School of Business at Baruch College, CUNY

The focus of Dr. Yildirim's lecture is on "A multi-faceted approach to real estate trends and education." Considering the business of real estate as the most interdisciplinary area, he will examine trends in engineering, architecture and design, financing and more. Based on his research and expertise previously at Syracuse University and now at Baruch College in developing higher education training and credentialing, he will share specifics on the Newman Institute's certificates, non-degree and credit bearing undergraduate and graduate courses as well as apprenticeships, conferences, and research.

09/23/22

12:00 - 1:30 PM
(Lunch will be served)

Professor Gernot Reither

Coordinator of the M. Arch and MS. Arch programs and Hillier College of Architecture and Design Associate Professor

The focus of his lecture is on the Pre-Cast Concrete Institute Research Studio which is addressing a new model for "Affordable Housing Micro-Units" in Jersey City.
NJIT Profeta Real Estate Center, 1st Floor, Central Avenue Building (corner left of lobby adjacent to the Van Houten Library)  
186 Central Avenue, Newark, NJ