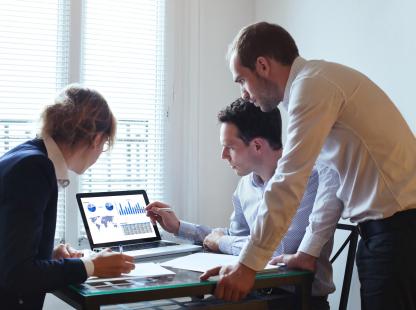 Careers with an MBA
What can I do with my MBA?
Perks of a Tuchman MBA
The proliferation of technology industry practices has created a strong demand in corporations for savvy data analysis, making this a great time to graduate from an STEM-backed MBA program.
Our MBA program is designed to help alumni climb the corporate ladder, often moving from analyst to management roles.
This advancement grows paychecks. The median salary doubled for people across all industries who earned their MBA degrees and then returned to their fields, according to a recent Wall Street Journal survey of nearly 7,000 recent degree earners.
Some who used MBA programs as opportunities to change careers saw even greater wage-boost percentages
Currently Hot Jobs for MBA Graduates Include:
Product Manager.
Consultant.
Medical and Health Services Manager.
Financial Manager.
Product Marketing Manager and Brand Marketing Manager.
MBA Management Roles
Product Managers
Product managers are responsible for guiding the success of a product and leading the cross-functional team that is responsible for improving it. It is an important organizational role — especially in technology companies — that sets the strategy, roadmap, and feature definition for a product or product line.
Product managers provide the deep product expertise needed to lead the organization and make strategic product decisions. They often analyze market and competitive conditions, laying out a product vision that is differentiated and delivers unique value based on customer demands.
The product manager is the person responsible for defining the why, when, and what of the product that the engineering team builds. This means they lead cross-functional teams from a product's conception all the way through to its launch.
According to salary sites like Glassdoor and Payscale, typical salaries among product managers can range anywhere from $61,000 to $200,000-plus, depending on where they are in their career.
Management Consultants
If you're interested in how a business works – its strategy, structure, management and operations – a career in management consultancy might be for you.Management consultants help businesses improve their performance and grow by solving problems and finding new and better ways of doing things. It's not just in the private sector either – many firms work with public sector organizations to help develop their services and, where necessary, reduce costs and make savings.
Consultancy firms offer services across all areas of business – from HR and marketing, to IT and finance. The broad span of consulting work makes it an attractive career, offering a variety of projects, challenges and opportunities for personal development. This might involve working all over the world with multinational clients, even if you don't join one of the big firms.
Payscale reports that the average salary for a management consultant ranges from  $74,000 - $117,000.
Medical and Health Service Managers
Medical and health services managers plan, direct, and coordinate the business activities of healthcare providers.  Most medical and health services managers work in offices in healthcare facilities, including hospitals and nursing homes, and group medical practices.
Employment of medical and health services managers is projected to grow 18 percent from 2018 to 2028, much faster than the average for all occupations. As the large baby-boom population ages and people remain active later in life, there should be increased demand for healthcare services.
The BLS reports the median annual wage for medical and health services managers was $99,730 in May 2018.
Financial Managers
MBA finance jobs are perennially popular. "Chief financial officer," "senior financial analyst," "controller" and "director of finance" are four of the 10 most in-demand job titles requiring an MBA, according to ZipRecruiter.
These roles require people to have the technical skills necessary to successfully run financial models and translate the insight into actionable business strategies.
Financial managers work in many industries, including banks and insurance companies. Most financial managers work full time and some work more than 40 hours per week.
Employment of financial managers is projected to grow 16 percent from 2018 to 2028, much faster than the average for all occupations. Several core functions of financial managers, including risk management and cash management, are expected to be in high demand over the next decade.
The BLS reports that the median annual wage for financial managers was $127,990 in May 2018.
What is the role of a Marketing Manager?
Product and brand marketing managers build on the work product managers do by figuring out the value of what a company creates and how to communicate that value to potential customers while also analyzing the competition.
According to the Bureau of Labor Statistics, median pay for marketing managers in 2017 was $132,230.