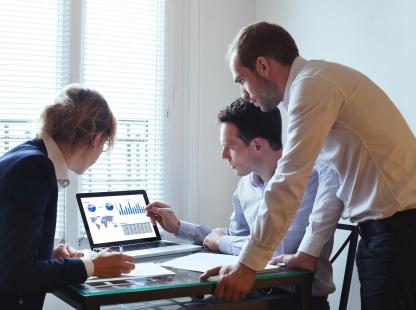 NJIT's Martin Tuchman School of Management MBA Program Overview
The Tuchman MBA is a program focused on meeting the challenges of an increasingly complex and technologically driven business environment.
Martin Tuchman School of Management TECH MBA
The Tuchman Way: Our Approach to Management Education 
NJIT's Martin Tuchman School of Management TECH MBA curriculum is designed to equip a new generation of technology-savvy business leaders with the skills to respond to the rapid, often unpredictable, technological, social, and economic changes that are affecting industries, companies, and employees.
We Believe That Knowledge of Technology Is Critical To Success in Any Business.
Rapid advances in science and technology are fundamentally changing the nature of business. At MTSM, we believe that every company must have a system for managing and aligning its technologies with its strategic and organizational goals.
We Build "Leading-Edge" Concepts Into the MBA Core Curriculum.
All of our MBA students are exposed to critical trends that are transforming business, and we believe that it is essential to prepare our graduates to address the issues that are shaping the future of business.
We Avoid Fads and Fashion. 
We believe that management thought is especially prone to trendy fads that may or may not be informed by emerging trends. Our course offerings are intentionally designed to infuse industry-leading research with the practical application of new technology.
We Question Commonly Held Assumptions and Conventional "Wisdom".
Our focus on the management of technology challenges commonly held assumptions and our research and teaching offers specialized technical knowledge to support business operations, and the strategic implications of technology for business.
Why choose our MBA?
Online or On-Campus
STEM designated
AACSB accredited. The gold standard for all business school accreditations
Earn two concentrations in one degree
An MBA from a top 100 business school
Offered at a leading polytechnic institution
Acquire skills-based credentials in a broad selection of fields
TECH MBA Concentrations Areas
Finance | Innovation and Entrepreneurship | Marketing | Management Information Systems (MIS) | Custom Concentration*
Program Length
Our 36-credit TECH MBA program may be completed in four semesters. Students can complete the degree part-time, full-time, on-campus, or online.  A detailed program curriculum can be found here.
Cost
| | |
| --- | --- |
| Location | Cost Per Credit* |
| Online | $1,112** |
| On-Campus In-State | $1,193 |
| On-Campus Out-of-State | $1,713 |
*Estimated Program costs based on 2022-23 tuition. Does not include fees. 
**Students in the online TECH MBA may only take fully online courses to be eligible for this rate. This is a flat rate with no additional fees.
Paying for the degree
NJIT has a number of resources available for students for financial assistance:
Admissions Requirements
Bachelor's degree or equivalent
GMAT/GRE requirement is waived for applicants with an earned Master's, Doctoral, and/or Professional degree (JD, MD) from accredited US and Canadian-based institutions.
GMAT/GRE requirement is waived for applicants with an earned Bachelor's degree from accredited US and Canadian-based institutions with a minimum GPA of 3.0
Applicants with a GPA below 3.0 are required to take the GMAT/GRE. Waivers for GMAT/GRE requirements for applicants with a lower than 3.0 GPA may be considered on a case-by-case basis.
International students whose native language is not English must submit a TOEFL score (minimum score of 79) or the IELTS (minimum score of 6.5)
One letter of recommendation and resume
Sample Degree Plan (Based On Nine Credit Semesters)
| | | | |
| --- | --- | --- | --- |
| Fall - Year 1 | ACCT 615 | FIN 600 | HRM 601 |
| Spring - Year 1 | MIS 645 | MGMT 630 | MRKT 632 |
| Summer – Year 1 | Concentration I Course 1 | Concentration I Course 2 | Concentration I Course 3 |
| Fall - Year 2 | Concentration II Course 1 | Concentration II Course 2 | Concentration II Course 3 |
Learn More
Contact gradbizadvising@njit.edu for more information about becoming a Tuchman MBA.
*For Custom Concentrations please consult with your academic advisor first