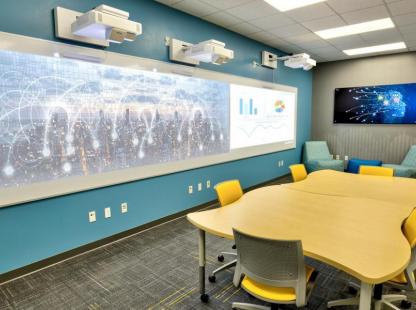 MBA in Management Information Systems
Earn you MBA in Management Information Systems
What Is the MIS Concentration in the MBA Program?
If you're searching for acquiring an accredited online or face-to-face MBA, the programs at NJIT have different concentrations that you focus on that can help further your career once you graduate with your online graduate MBA in Management Information Systems. If you're looking to advance your professional development, attending a graduate school MBA online program may be the best choice so that you are still able to work and pursue your degree. We offer affordable online MBA programs, with relevant concentrations to our modern world, like the management information systems concentration, so that when you graduate, you're immediately ready to work. You can find our MBA curriculum right here.
What Will I Study in the MIS Concentration?
When you attend an accelerated online MBA AACSB program at NJIT, you can choose one of our many concentrations. In the MIS concentration, you'll study the value of information and how it relates to business. New online MBA programs such as ours offer the MIS concentration because of the growth of information systems and information technology and how important they've become to business in recent decades. You will study how information systems and management can help enhance business management systems, and other strategies.
The courses in the MIS concentration are focused on the strategic value of information in business. They sharpen the strategic focus of the MBA degree by highlighting the role of information management in gaining competitive advantage through improved business process management and enhanced business intelligence systems. 
Who Is the MIS Concentration For?
Ideally, the MIS concentration is for anyone who wants to attend business school online and has an undergraduate degree, and is pursuant of their online business school MBA. However, most of our students attending our online MBA program with the MIS concentration are looking to take managerial or leadership roles in information systems technology or information management. If you're unsure what may be involved with MIS management, MIS managers are generally involved with infrastructure when it comes to the design, implementation, and operations of a networked organization.
Where Can the MIS Concentration Take Me in My Career?
Graduating with an accredited online MBA degree and a concentration in MIS can do a lot for your career. You can look toward a career in MIS management or C-level executive management, such as CIO positions. Those with MBAs and MIS concentrations also find that they enjoy IT work and consulting work as well.
 
The MBA+ difference.
Looking for more information? Fill out the form to learn more about our programs.
Loading...